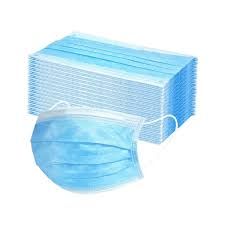 Nonwoven Face Masks
Stock Level
In Stock
In Stock
Description
Introducing our Blue Face Masks, a reliable safeguard for you and your family's health. Manufactured by ProBarrier, these disposable 3-ply surgical face masks are designed to provide essential protection while ensuring breathability and a comfortable fit around the face. Each mask is meticulously crafted to meet FDA standards, guaranteeing reliable and effective protection against external elements.

Ideal for various everyday settings, these face masks offer a practical solution for safeguarding your well-being without compromising on comfort. The secure ear loops ensure a secure and snug fit, allowing for hassle-free wear throughout the day. Packaged in a box of 50 pieces, these masks are a convenient and essential addition to your daily health protection routine.

Invest in our Blue Face Masks to prioritize the health and safety of you and your loved ones. With their high-quality construction and reliable protection, these face masks are an indispensable asset for any setting that values safety, comfort, and overall well-being.